I used to share stock tips with my brothers-in-law. Before the tech crash I could offer up a few stocks I liked, and they would often make some money.  The crash painfully ended the easy money and I moved on to index funds. They didn't think indexes were near as much fun.
One Easter one of my brothers-in-law asked what I was investing in.   My response was "inverse volatility". I might as well have said pixie dust.  I stood there wondering where (or if) to start.  First, you have stocks, then you have the S&P 500, then you have options on the S&P 500, then you have implied volatility calculations, then you have futures on volatility, then you have ETPs with rolling mixtures of futures on volatility (VXX), and then you have the inverse (or the short) of that.   We looked each other in the eye and wordlessly agreed that we wouldn't start.
I like short volatility investing.  It's seldom boring and over the long run the advantage is on your side. Volatility has a return to mean behavior, and volatility futures are almost always in contango—which erodes the value of long volatility products like VXX, UVIX, or UVXY. If you buy inverse volatility when the VIX is relatively high, your chances of making a good profit eventually are very good.
Currently, there are three viable choices in inverse volatility ETN/ETFs, Volatility Shares' SVIX & ZIVB, as well as ProShares' SVXY. All are ETFs.  SVIX is an -1X fund based on the new SHORTVOL index, ZIVB is a -1X fund based on the SPVXMPI index, which uses medium-term VIX futures, and SVXY is a -0.5X fund based on the legacy SPVXSP index.
In rating volatility funds I think there are  four primary factors:
Liquidity (small bid-asked spreads, getting good fills on orders)
Leverage
Risk
Tax treatment
ProShares' SVXY has very good liquidity and an acceptable leverage level of -0.5X.  From a risk viewpoint, SXVY's -0.5X leverage significantly reduces the odds of a XIV-style killer downturn, but it is still sensitive to the end-of-day dynamics of the VIX futures market settlement process.  SVXY requires K-1 style tax treatment, somewhat more complicated than stocks but it may offer 60% long-term tax brackets regardless of the holding period. 
Volatility Shares' -1X SVIX is my first choice for a short volatility Exchange Traded Product.  It's new, but is already trading with bid/ask spreads of a cent or two and volumes in the hundreds of thousands.  SVIX is less susceptible to late-day VIX futures dynamics because it spreads out its end-of-day futures rolls and rebalancing over the last 15 minutes of regular trading, rather than concentrating it all at the settlement time.  SVIX and its sister long fund UVIX also limit their combined VIX future sales/purchases to 10% or less of the overall VIX futures volume, further desensitizing them to end-of-day dynamics.  For more information on these advantages over SVXY see How Does SVIX Work? and How does the SHORTVOL index work?.
SVIX also requires K-1 style tax treatment.
The daily percentage leverage of a normal short position is a variable that changes as the equity changes in price.  If you short XYZ stock at $100, the first $1 move, either way, delivers 1X leverage—you gain or lose $1, which is +-1/100 = +- 1%. But the further you get from that initiating price, the more the daily leverage changes
Imagine after you sell XYZ short at $100 it drops like a rock to $2/share. If it drops the next day from $2 to $1.5, it's a 25% daily move—but the value of your short position only changes from $98  to $98.5 per share. That's a 0.5% move and the leverage, 0.5%/25% is only  0.02X. Conversely, if XYZ moves to $150 after you short it at $100, a $1 daily move down (0.67%) changes your position value from $50/share to $51/share—a 2% move which is  2%/.67% = 3X leverage. The graph below shows this relationship.
.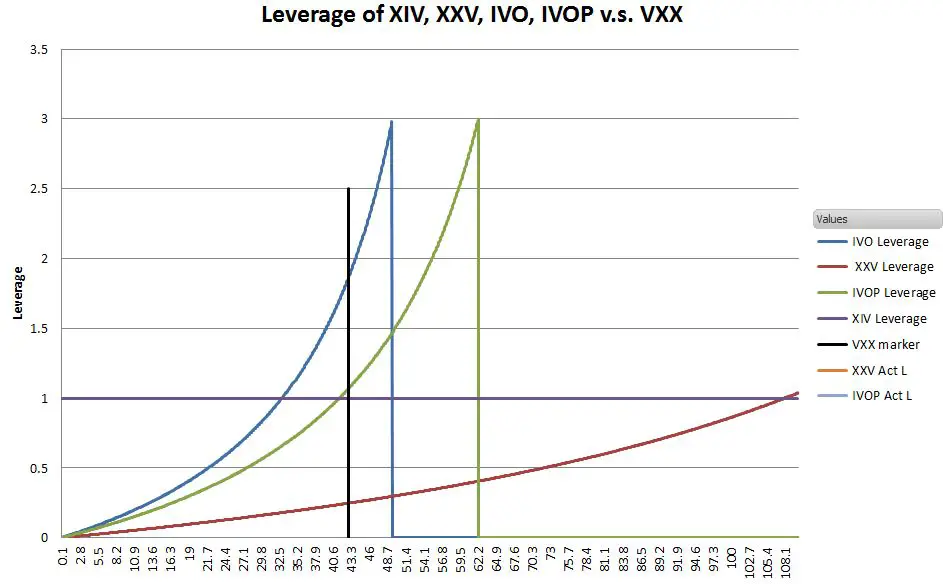 Regarding risk, these are volatile products. They will get hammered when volatility spikes up. For example, on February 5, 2018, XIV dropped 96% in one day and was terminated a few days later.
Although all inverse volatility funds benefit from the normal contango term structure of volatility futures,  they aren't really buy-and-hold choices for investors.  Investors should have hedges in place (e.g., put options), or go to the sidelines if the market looks "toppy".   All your gains can evaporate in a big hurry if the market corrects or crashes.   In my opinion, these funds are safer than just shorting long products like UVIX, UVXY, or VXX, because those short positions have the potential to lose much more than your initial investment.   For more on these risks see Is Shorting UVIX, UVXY, VXX the perfect trade?