Originally posted April 23, 2013
Around 3:40 ET I noticed that Schwab's web presence was completely gone.  StreetSmart Edge servers were not available, and www.Schwab.com was nowhere to be found.   Signing onto Schwab later there was the following message:
…………………………………………………………………………………………………
A Message From Schwab
APRIL 23, 2013 — Shortly before the stock market closed today, we experienced an exceptionally high volume of website traffic which we believe was related to a denial-of-service attack. At all times, phone access to Schwab service professionals (800-435-4000) was available, although for a brief time immediately before market close call volumes were high. Web access was largely restored in approximately one hour and forty minutes. We deeply apologize to our valued clients for the inconvenience.
…………………………………………………………………………………………………
A denial of service (DoS) attack usually involves overloading servers with excess traffic.   My browsers weren't even getting DNS addresses when I attempted to contact Schwab websites.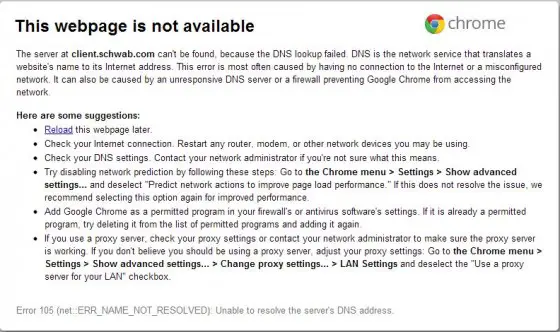 I doubt we'll ever hear any specifics of this attack, but it would be interesting to know the sophistication of the attack, and the defenses Schwab had in place.