Currently TVIX is running about 5% high compared to its indicative value.   The combination of Credit Suisse making shares available to borrow, plus the knowledge that limited share creation might start on March 28th was enough to restore relative sanity to TVIX's price.
As you can see below it didn't take a lot of new shares to pull TVIX back close to its indicative value.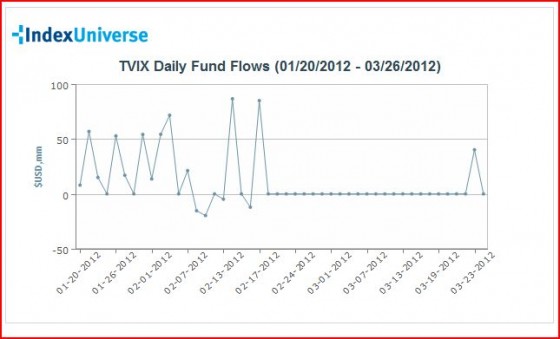 About $40 million in cash added 6 million TVIX shares to the market—bringing the total outstanding to 46.7 million. The chart was created by IndexUnverse's Fund Flows Tool.
March 26th's open interest on first and second month VIX futures contracts was 195K. With VIX at 15, these contacts total around $2.9 billion in value—it took 1.4% of that to resync TVIX.