The prices of SPY from this year and the same date 6 years ago continue their intertwining.  For the last two years, just using the old SPY chart has been a better predictor than any number of CNBC commentators—too bad I haven't been able to convince myself to use this as my market strategy.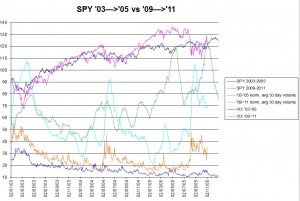 Today's closing price of $122, was only $1.5 different from the $120.49 close on November 1st, 2006.
Volatility on the other hand is much higher this time around. The availability of volatility based products, starting with futures in 2004 certainly doesn't appear to be dampening market volatility.