Almost everyone that invests would love to have a cost-effective way to insure against market declines.   Securities that allow you to go long on volatility are attractive because they tend to go up when the market goes down,  but none of them, when sized to really protect an investment are affordable in a "set and forget" sort of way.
The first generation volatility ETNs like Barclay's VXX and VXZ (now replaced with VXXB and VXZB), enabled investors to bet on volatility without using futures or options,  but VXX suffers greatly from contango in non-fearful times.  It has dropped from a split-adjusted $26500 a share at its inception in early 2009 to $14 in May 2017—a loss of 99.95%.   Gathering accolades like: "VXX may be the worst investment vehicle ever created", Barclays was wise to not sit on its laurels even with VXX holding over $1 billion in assets.
Another first generation fund, UBS's XVIX, (no longer in existence) added the innovation of shorting a percentage of short term futures while being long medium-term futures, but it had a totally uninspiring existence from its creation in February 2011.  Its fixed 50% short, 100% long mix of short and medium futures has failed to do anything.    Another follow-on fund, CitiGroup's CVOL (also no longer in existence), added a dynamic component—a variable short position in the S&P 500, adjusted monthly.  However, this adjustment, intended to make CVOL act more like the VIX index, did nothing to protect itself from contango.  It also suffers greatly during the non-panic times.
Barclays uses both of these techniques but adapts them to reducing the contango induced costs of being long volatility.  These backtested results, taken from the XVZ prospectus, looked very impressive.  Unfortunately, contango in the medium term volatility VIX futures that XVZ holds increased considerably starting in 2010 which led to large losses (-30% April 2012 to April 2013) in the fund.  From 2014 on XVZ has held its value better, but there is still erosion of value that won't completely stop until the next big correction or bear market boosts XVZ's value back up.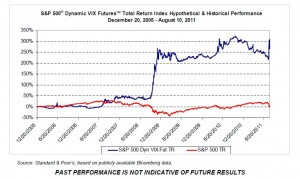 .
.
.
.
.
.
.
.
The big jump and lack of decay after the 2008/2009 crash is astonishing. The scale of the chart is so vast that it could be misleading, but compared to the equivalent VXX chart, XVZ looks very, very good.  Update:  I have backtested XVZ myself now.  See the results here.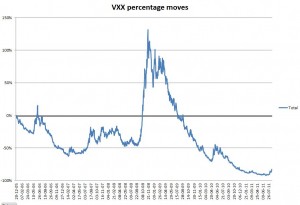 .
.
.
.
.
.
.
.
..
..
.