Since November 2009 I have been tracking the sometimes eerie day to day correspondence between the current value of SPY and its value 6 years ago.    In 2011 the market moved up strongly in the first half, a performance considerably stronger than its counterpart 6 years ago.  No double dip, no "square root."   This has been a powerful bull market.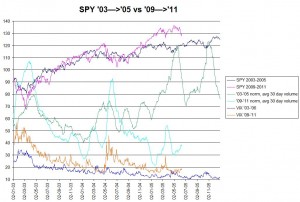 .
..
.
..
.
.
.
.
One of the characteristic differences between these two markets persists—the VIX index, and actual volatility have been higher this time around.  Right now the market is nervous, and it wouldn't be uncharacteristic for it to dive down below the 120 level to cross over with the old market levels once again.   I don't think it will, baring an earthquake or a breakdown in Europe, but it could…
In April 2011, for the first time since the 2008/2009 crash the new value of the VIX dropped below the old—briefly.   I don't expect this to happen again for several months at least.
.