Tuesday was a good day to look at the performance of the current crowd of volatility tickers.   Below is a snapshot of things at the end of the day: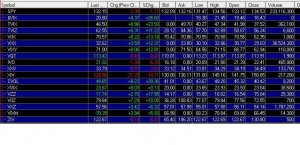 .
.
.
Some basics:
SPY down 1.77%, with relatively high volume—233 million shares
VIX closes at 20.80, up 4.37 points.  A 26.6% move!
VXX closes at 32.62 up 12.37% with 36.5 million shares traded.  As usual VXX is a disappointing play on the VIX, chewed by contango in the slow times,  underwhelming in the fast times
VXZ closed at 57.56 up 6.32% with a volume of 1.8 million shares
Stars
TVIX delivered a 23.93% move—nearly matching VIX.   If your timing is good, you will be rewarded.
ProShare's VIXY, while tiny compared to VXX had a volume of 110,000—dwarfing VIIX's 1000 shares, the other VXX wannabe
Not so hot
CVOL, rigged to match the VIX, delivered a 20.36% move.   Its short S&P 500 component isn't carrying its own weight.
XXV with 113K shares traded, not sure what people are trying to do here.   It's the ETN with no where to go.
VQT's VXX component wasn't enough to prevent a loss—it was down .49%.   If a 12% VXX move isn't enough to keep you in the green it isn't worth carrying the rest of the time.