The CBOE posts historical volatility futures quotes, but not in a particularly helpful organization. Each expiration month has a separate spreadsheet, which currently adds up to > 100 different spreadsheets from May 2004 to now. Adding to the difficulties, there are four expiration months in the early years that didn't exist at all that led to a lot of missing data and a reverse split along the way.
I have created a spreadsheet that integrates all of the data from March 2004 through the most recent quarter completed (see this table for specific dates), into a single master sheet and interpolates/extrapolates missing data for VIX Futures months that did not trade in the 2004 through 2008 timeframe. This spreadsheet makes it much easier to analyze topics like volatility contango/backwardation over time, computing the rolling averages used by almost all the existing volatility ETNs/ ETFs, and looking at term structures.  The master spreadsheet for a small subset of dates is shown below.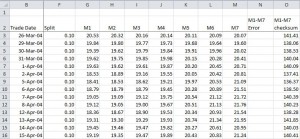 The spreadsheet includes the required futures data.  It is a straightforward task to incorporate data up until the present date.  That process is documented in the spreadsheet itself.
A readme sheet with detailed instructions is included with the download.  Email ([email protected]) and phone (970-481-7426) support is included with purchase.   Go to the bottom portion of this post to buy this spreadsheet.
The default presentation is to compile the settlement prices but the spreadsheet is configurable to generate daily open, high, low, close, volume, open interest and EFP (Exchange For Physical) numbers.
I also generate the monthly settlement prices for VIX futures contracts back to 2004.
This spreadsheet does not include index calculation formulas (e.g., for SPVXSP, SPVXSTR, SPVXMP, SPVXMTR) but it contains all the information, including treasury bill yields required to do those calculation.  I do offer for sale a VIX futures spreadsheet that includes those calculations.  See this link for more information.