I have been not so patiently waiting for the market to pick a direction.   I have been surprised at the strength of the rebound from the lows a month ago–we are less than a point away from SPY setting 15 month highs.   My gut is still telling me we are in a trading range similar to 2004 and 1999 after big bull run-ups, but I'm not willing to put a lot of chips down to back that up.    I'm still about 80% in cash, with my bearish SDS play somewhat in the red.   Oil looks high, and I'm not anxious to try and capture the upcoming March SPY dividend because of what feels like downside risk.
Over the last year I have not tried to strongly play the downside moves, but I wondering if I should be, for example going long on VIX options, or shorting SPY in some fashion.    The upside odds look quite a bit lower than the downside odds right now.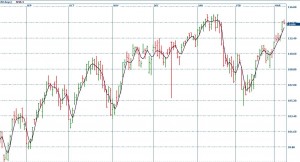 Off the trendline, but what's next?